Last week, The World Health Organisation declared the spread of the covid-19, a pandemic. According to BBC News, a pandemic is described as an infectious disease where we see significant and ongoing person-to-person spread in multiple countries around the world at the same time. At the time of writing, the number of cases in Malaysia has increased to 428; thankfully, no deaths have been reported yet. Many large organisations within the country have been affected. We're not just talking about dollars and cents, but this includes daily operations. When a single employee is tested positive for covid-19, the entire office and its vicinity need to be disinfected. Employees, especially those that have been in close contact with the patient, is required to be self-quarantine for the recommended period of 14 days. Will an employee be required to use their annual leave then? How about your salary?
According to the Ministry of Human Resources, here are a few key things worth noting:
1. If You're Experiencing Symptoms
Once you've shown any symptoms at all; please use a mask to avoid infecting others. This includes aches and pains, nasal congestion, runny nose, sore throat or diarrhoea. An employer needs to ensure that the employee receives medical attention at a government or private hospital immediately. If unsure, please refer to the contact details in the image below that outlines the helpline by each state. All cost for these examinations needs to be borne by the company.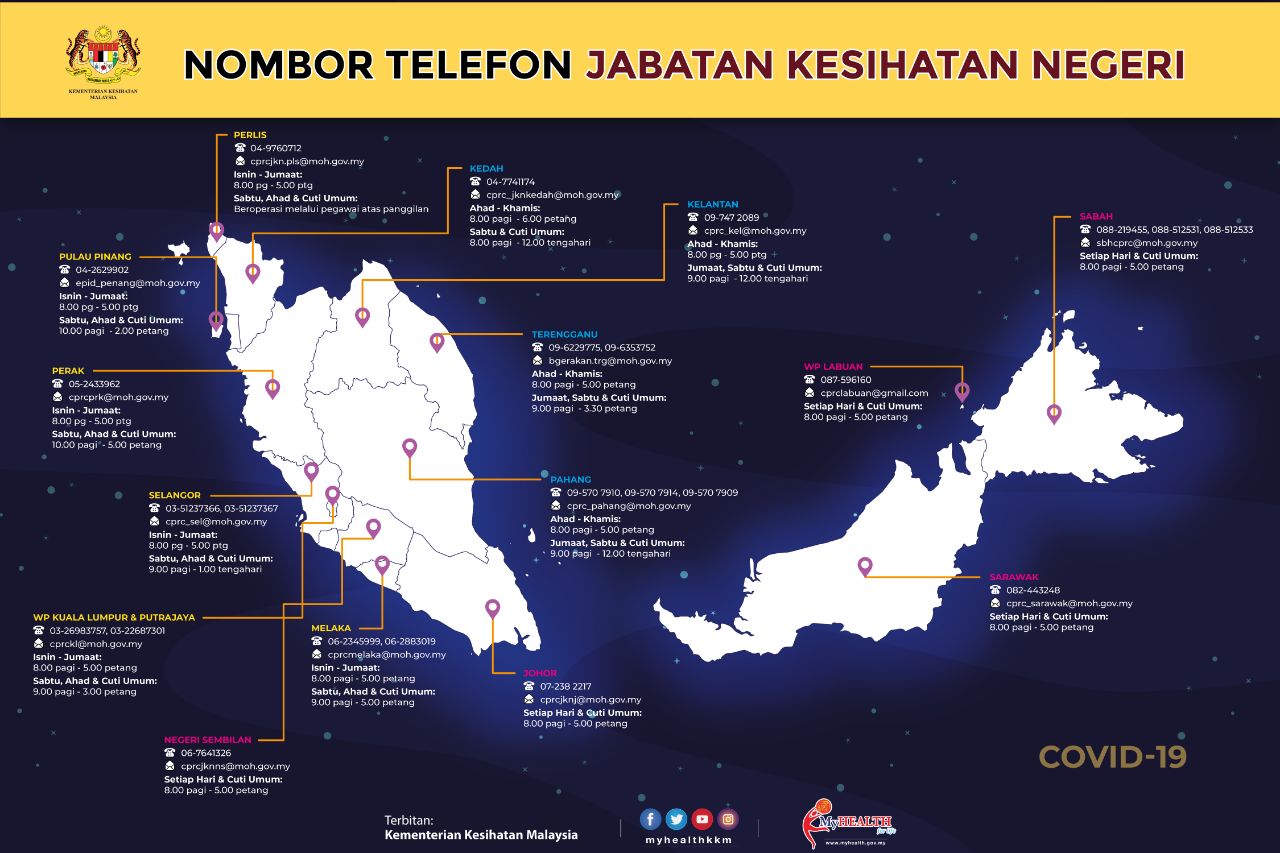 If an employee has been tested positive for covid-19, the employer must ensure the full salary is being paid. Sick leave must be granted whether or not the patient is hospitalised or self-quarantined at home. In the event that the employee has exceeded their number of sick leave or hospitalisation entitlement given by the company, employers are encouraged to provide additional remuneration to accommodate these extra days. This means the final decision to provide these is at the prerogative of the respective organisations.
3. Self-quarantine after a business trip is compulsory
At this stage, organisations have already stopped all unnecessary business travels. However, in the event that there are still some employees that are returning from business trips to a country that is affected by the covid-19, there has to be a compulsory self-quarantined period of 14-days with full remuneration given. Over the weeks, the list of countries has grown, and some have banned travel altogether. To keep yourself up to date with the latest developments, the WHO provides daily situation reports with updates on affected countries. Access this information here.
4. Forced or unpaid leave is not permitted
The employer can instruct a sick employee to utilise their sick leave entitlement; however, if an employee has not been instructed to be self-quarantined, the employer cannot force an employee to take leave.
All-in-all, these laws are put in place to protect both employers and employees. Always remember to take necessary precautions to avoid contracting the virus and infecting others if you're experiencing symptoms. So, be responsible and wear a mask if you're showing any symptoms at all. If you're unwell, be sure to get yourself checked immediately and don't attend social gatherings, meetings or turn up at work. One cannot be more careful these days.