In December 2022, CXL won the SME100 Awards for our Contingent Workforce services, to cap off a year of returning to momentum after the unexpected upheavals induced by the pandemic.
The conferment of this coveted title would not have been possible without the support and opportunity from our clients, some of whom were with us from day one. The encouragement personified through the long standing relationship with us represents their confidence in our service and our commitment as a trusted partner to contribute to their corporate goals. This stacks on our belief throughout the years that saw us growing together with our clients. 
Erin Sequerah, Head of Business for CXL's Contingent Workforce leads our team with unwavering dedication and experience. Daily and in fact throughout the project duration, she ensures her recruiters and HR Business Partners (HRBP) would fully understand what is required from the job orders and formulate the best way forward to complete the projects. HRBP are in fact crucial in bridging the communication gap and resolving issues that might arise between the clients and CXL.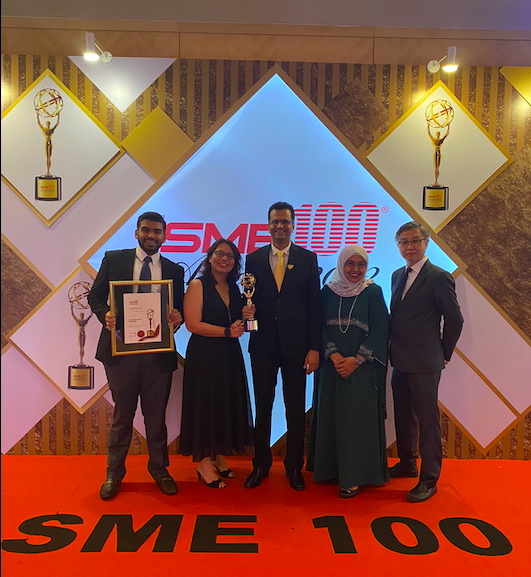 From left to right: Dhiva Khartik (Managing Consultant of Executive Search Division), Erin Sequersionah (Head, Contingent Workforce Division), Fariz Abdullah (Chief Executive Offiver), Tengku Murni (Head of Business Development), Stephen Lee (Chief Financial Officer)
The combination of hard work, determination and the right hiring strategies supplemented by the business unit's impeccable service elevates the experiential factor for our clients. This is where beyond just "presentation promises", the meticulous delivery reflects CXL's professionalism; it's a form of saying, "We walk the talk."
As an HR company, we know how vital it is for fellow practitioners to put on their strategic thinking hats. In more ways than one, when a HR professional collaborates strategically with the top brass of the company, it is a potent force that can navigate the business towards its goals successfully. It is with such a foundational understanding of the business that we have created the smooth and seamless staffing solutions to alleviate the burdensome HR work (from recruitment to payroll) of our clients so they can focus on what's most important.
About Contingent Workforce
The Contingent Workforce discipline is one that relates to engagement on a provisional basis. In the larger scheme of things, it covers administrative roles to the highly skilled positions and as such would see contractors, consultants, freelancers and temporary staff hired as part of a Contingent Workforce to fulfil a contractual need over a certain period of time and comes with some form of benefits.
"Contingent Workforce is also sometimes referred to as "Employee Leasing" or "Contract Labour""
To ease the comprehension, think of Contingent Workforce like a no frills budget airline. It is simple, gets the job done and yields little risk for everyone. The only time it gets complicated is during the peak season when there could be more demand than supply. This is where hiring through CXL becomes the differentiating factor.
In terms of the kind of roles we have been hiring for our clients, it includes Customer Service, Telemarketing/Tele-collection, Account/Finance Executive, Office Support and Warehouse/Retail Assistant, Data Entry and Receptionist. See our blog, The Contingent Workforce: What You Need To Know About This Growing Labour Pool, for more information. 
There are however some emerging roles that are rarely talked about in the Contingent Workforce and they are categorically placed within Contract For Service, which includes positions for the Technical Professionals, Professional Consultants and jobs in the IT sector.
It goes without saying that positions such as these have in recent times been grabbing headlines around the world with mass layoffs announced by the tech sector. Although no data is readily available yet to gauge where the retrenched are headed to, it is likely some will opt for casual or temporary work while a segment will prefer the remote working arrangements. 
According to Erin, this is somewhat good news for Contingent Workforce because these permutations of employment are all a subset of this practice. By having them re-entering the job market in this manner enlarges the pool of available candidates to serve the market. This in turn opens up more options for both the employers and the talents out there, not forgetting the different industries that they can get into as well. It's like a budget airline added with more planes in its fleet, giving the market more options in terms of destinations, price, departure & arrival times, comfort and even the type of plane one can choose to fly with.
This could also be the new season (again) for companies to sample contingent hiring if one is concerned about the impending global recession in 2023 as predicted by some leading economists. To begin with, if companies are heavily invested in their business and would not trade their future bright prospects with the potentially unbearable risks in an economic downturn, then employing through CXL's Contingent Workforce may be the ideal solution. 
Through us, the hiring process affords companies with better decision making authority to engage and disengage a worker from their team in a greater autonomy than they could a permanent or a contract hire when they do it all on their own. Through CXL, it also alleviates the company from the tricky hiring process and the laborious administrative tasks like record keeping and payroll where the latter gets more challenging with fixed and part-time payouts. The risk is substantially mitigated as such, including shaving off the engagement costs such as salaries and benefits.
Contingent Workforce in this regard may be a double edged sword during the lean period because it allows the supervising superiors at the companies to assess talents in real time and subsequently identify which among the new crop of hires are suitable to be part of the company in the future. It's akin to having the perfect planes readily tuned for the take-off, hiring on demand as such empowers employers with a sense of leverage when the sky finally brightens
Winning the SME100 Awards has certainly placed CXL Group in a perfect position to start 2023 with. It reinforces our quality, professionalism and branding. Although it is still early in the year, this award has already set our sights further than just the domestic shores, beginning first by taking off to the Asean region and intersperse concurrently by rolling out more services to the market.